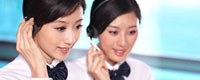 Name: Lily LEE
Tel: +86-186 7081 1311
Fax: +86 -(0)731 2239 9237
Mobile: +86-186 7081 1311
E-mail: lilylee@ibouya.com
Add: Zhuzhou 412007, Hunan, China
Skype: lilylee288@hotmail.com
WeChat: bouyalilylee





After dog bites, this step you have to do
Rabies is the most dangerous of all infectious diseases, viral diseases, once the disease, the prognosis is very poor, so after the timely treatment of biting should be.
Once the animals bite, scratched, the first should immediately deal with the wound.
First of all, be scratched, immediately wash with soapy water or water thoroughly wounds for at least 15 minutes.
Secondly, thoroughly rinse with 2% -3% iodine and 75% alcohol wipe the wound.
Third, as long as no damage to the great vessels, try not to bandage and suture.
And then in a timely manner to the hospital vaccination of rabies vaccine, and the following circumstances need to be vaccinated against rabies serum or globulin:
1, single or multiple penetrating bites or scratches
2, damaged skin was licked
3, mucosal contamination by animal body fluids.
-- Bouya pet toys